Speaker Details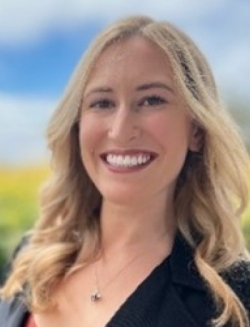 Kaiya Levine
Kaiya Works to support the growth of distributed energy resources and decarbonization of the electric grid. Her expertise is in process improvement, customer engagement, data analytics, and report development. She has hands on experience developing the largest portfolios of energy storage systems built around Tesla and Lockheed Martin lithium-Ion battery technology. Her areas of professional interest are; Sustainability, Renewable Energy, Solar, Energy Storage, Virtual Power Plant, EVs, Microgrids, Energy Data, Energy Software, Cybersecurity, Differential Privacy and Power Grid.
---
Presentation
San Francisco Bay's Water Emergency Transportation Authority's transition to zero emission vessels
San Francisco Bay's Water Emergency Transportation Authority (WETA) provides an important means of transportation in the Bay Area and provides emergency services when support is required. To comply with new California Air Resources Board (CARB) regulations and continue to be a leader in the sector, WETA developed a Blueprint to transition their fleet of ferries to zero-emission vessels (ZEVs) by 2035. The Blueprint was funded through California Energy Commission (CEC) grants and led by Arup and Aurora Marine Design (AMD). The Blueprint focuses on the vessel-side analyses and terminal infrastructure requirements of electrifying the fleets. This presentation will review key findings, including optimal ferry routes, projected peak energy demands, and the impacts of interconnecting battery energy storage systems. The presentation will also review the current challenges and solutions that WETA is navigating with electrifying their fleet and infrastructure. This includes understanding space constraints at the terminals, grid capacity constraints, and optimal solutions for reducing time and costs associated with zero-emission fleet implementation.