Products on Show
Energy-efficient propulsion concepts
Elkon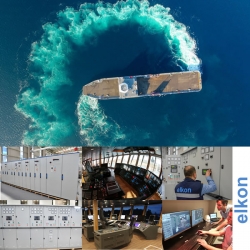 Marine electrical equipment designer, builder and system integrator, elkon, which was recently acquired by German marine propulsion expert SCHOTTEL GmbH, will exhibit its latest energy-efficient propulsion concepts, as well as its long-established hybridisation and electrification expertise.
---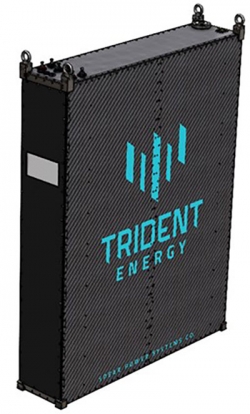 Spear Power Systems, a Sensata Technologies Inc company, will debut its exciting new Trident Energy product at Electric & Hybrid Marine Expo North America. Trident Energy excels in large installations on ferries, tugs and cruise vessels; it offers industry-leading specific energy, approaching 200Wh/kg, in an easy-to-install package that maximizes volumetric energy density without sacrificing power capability.
---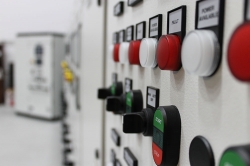 Renewable energy sources such as batteries, fuel cells and supercapacitors are on the rise, and it's only a matter of time before one of them becomes mainstream. Discover the benefits of Techsol Marine's DC integrated solutions in Houston this November. Whether your project is a new ship construction or an existing vessel modernization, the company believes the most effective way to be future-ready is to go for electric propulsion. Not only will your vessel be prepared for the power source of the future but you will enjoy many other benefits from the first day, such as increased safety, reliability and efficiency.
---
DNV-compliant, immersion-cooled battery packs
Kreisel Electric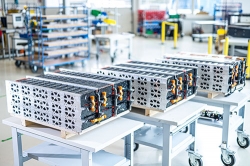 The sophisticated design and state-of-the-art thermal management are key to the impressive performance, lifetime and safety aspects of every Kreisel battery, according to the company. The cells in each Kreisel Battery Pack are immersion-cooled by a specially developed dielectric thermal management fluid from Shell. The excellent thermodynamic properties result in a unique low temperature spread of <1°C to prolong the battery life.
---
Powerful electrical connectors
Stäubli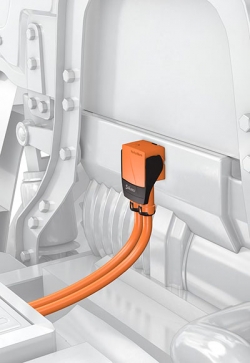 Stäubli Electrical Connectors offers world-class solutions for hands-free multi-megawatt DC fast charging, high-voltage and high-current device interconnects, modular solutions for battery swapping, cable and bus bar solutions, and application-specific solutions that are engineered to order from its offices in California, Switzerland, or dozens of other locations across the globe.
---
Parallel hybrid propulsion system
Esco Power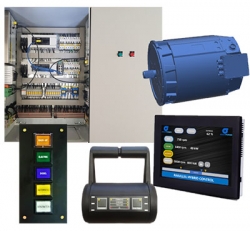 Esco Power will exhibit the parallel hybrid propulsion solution recently chosen by Thames Clippers in London to power the UK's first two high-speed hybrid passenger ferries.
The two 40m-long Uber Boat by Thames Clippers being built by Wight Shipyard Co are set to launch in autumn 2022 and spring 2023. They will operate on the Central Zone route, between the Tower Bridge and Battersea Power Station piers, and are each able to transport up to 230 passengers.
---
Methanol-fueled/hydrogen fuel cell towboat
Maritime Partners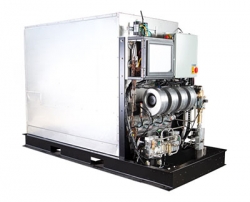 Maritime Partners (MP) is building the M/V Hydrogen One (H2One) – a methanol-fueled/hydrogen fuel cell-powered towboat, which, according to the company, offers one of the clearest, near-term pathways to achieving net zero emissions goals with commercially available and viable technology via the US Jones Act. MP, a provider of maritime leasing and financing solutions, will be in Houston to offer operators access to its fleet of more than 1,600 state-of-the-art vessels.
---
Infrastructure, structural and efficiency monitoring and analytical tools
Dewesoft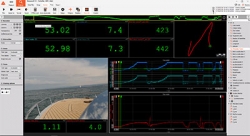 Dewesoft will be in Houston to demonstrate how it strives to offer both software and hardware that fulfills the needs associated with every possible measurement challenge from the laboratory to the field, including extremely harsh environments. Dewesoft has identified that the best way to maintain the ultimate solution is by following a parallel path with and observing and following a parallel path with emerging technologies that are present in any development group.
---
Onboard power conversion
NetPower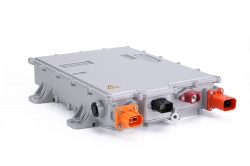 NetPower will present its state-of-art onboard power conversion products. The company provides reliable, efficient, compact OBCs (onboard chargers) and DC-DC converters for onboard battery charging and voltage conversion to facilitate the electrification of cars, boats, robotics and other transportation and construction equipment.
---
Zero-emission electric tugboat
Navtek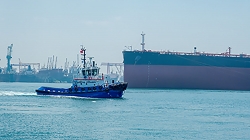 Navtek's booth will have all the latest from the company's fully electric, battery-powered tugboat, which has completed more than 850 days of operation. Zeetug30, which the company claims is the world's first zero-emission, rechargeable, fully electric battery-powered tugboat, was launched back in 2020.
---
Cutting-edge, customizable propulsion system
Ampros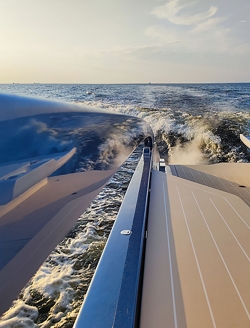 Combining its expertise across a range of sectors, including aviation, automotive and marine, the Ampros team has developed and built a cutting-edge electric and hybrid propulsion system that is customizable for various maritime applications.
---
Carabinieri patrol boat hybrid system
Transfluid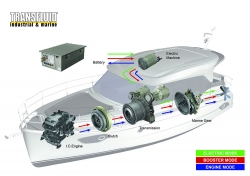 The Carabinieri, one of Italy's four armed forces, continues to enjoy great success with its new FSD N800 HY patrol boats, 20 of which have been ordered from Ferretti Security Division.
---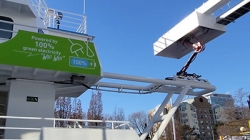 "Look at all these products! They look great, but the truth is, on their own, none of them will electrify your boat" – that's the key message that Canal will deliver in Houston this November.
---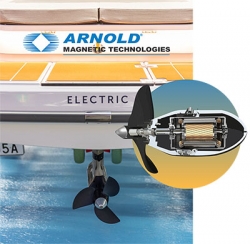 Following its acquisition of Ramco Electric Motors in 2021, Arnold Magnetic Technologies became a serious contributor to the exciting world of electric boat motors.
---