Speaker Details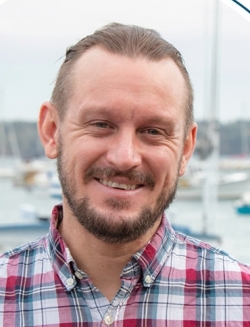 Sam Belknap
Sam is Director of Island Institute's Center for Marine Economy, overseeing a team focused on protecting and sustaining Maine's working waterfronts, advancing electric propulsion and expanding aquaculture in Maine. Sam is a trained anthropologist and climate scientist who is fascinated by how individuals and communities adapt to changing social and environmental circumstances. Sam holds a M.S. and a M.A. from the University of Maine's Climate Change Institute and Department of Anthropology.
---
Presentation
Taking charge: advancing electric propulsion on the Maine Coast
Island Institute's Center for the Marine Economy is leading efforts to electrify Maine's working coast. This presentation will explain how the organization is using a unique set of state and national partnerships, funding strategies to get e-boats on the water. With commissioned reports on shoreside charging infrastructure, fleet efficiency, and workforce centered partnerships with the Community College system to ensure that electric marine propulsion properly takes hold along the working coast.