Speaker Details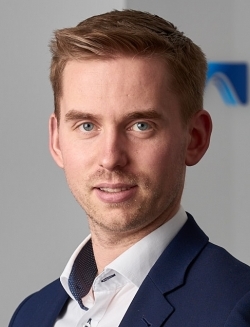 Frederic Moeris
Frederic studied mechanical business administration at RWTH Aachen University and holds an MSc. During his studies he actively took part in social entrepreneurship projects through the international student club, Enactus. In this he implemented several sustainable technology projects, including a self-sustaining fish farm in Tanzania. He started his professional career as a key account manager in the automotive sealing business within Freudenberg. He has been in the new business group, Freudenberg e-Power Systems, for three years, building up the fuel cell system business for heavy-duty applications. He currently resides in the US on a long-term assignment.
---
Presentation
The power of rightsizing - hybridization of battery and fuel cell
The heavy-duty market is a challenging one to electrify. With purely battery powered systems it is simply impossible to meet range and load requirements of deep--sea shipping or long-distance truck routes. Therefore, the hybridization approach of a battery combined with a fuel cell is a powerful leverage to even outfit the toughest applications with environmentally friendly powertrains. Freudenberg fully committed to make future mobility a green one and develops hybrid systems for these special purposes.