Speaker Details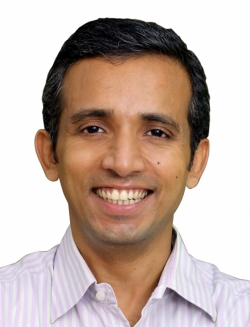 Sandith Thandasherry
Sandith is the founder and CEO of Navalt Solar and Electric Boats, and also the company's chief naval architect. He has an undergraduate degree in naval architecture from IIT Madras and an MBA from INSEAD. His extensive experience in the best shipyards in South Korea and Japan helped shape his engineering solutions. Currently, Sandith and Navalt are replicating 12 large solar ferries. Sandith's team is also building the world's first solar-electric ro-ro and high-impact solar fishing boats.
---
Presentation
Solar ferry boats for public transport
ADITYA, India's first solar ferry and winner of the Gustave Trouvé Award for the world's best electric ferry 2020, completed five years of successful operation in January 2022. In the five years, the boat has transported 1.5 million passengers over a distance of 90km across backwaters without a single drop of fuel and saving 150,000 liters of diesel. The fuel savings ensured the system achieved breakeven in three years. This was made possible by an innovative design and choice of technology. Such solar ferries can be replicated across the world.