Speaker Details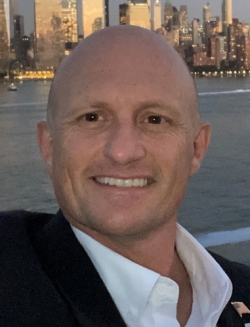 Luke Briant
Luke began his career as a commercial diver and graduated from the University of Plymouth (UK) with a BEng in marine systems technology. In the past 25 years he has worked with Rolls-Royce in propulsion engineering and service, Perry Slingsby Systems in subsea engineering, and various offshore operators on oil and gas projects. He has also had full exposure to research and development, first build development and testing for new ROV designs. (Triton XLX). In these roles, Luke has had experience with management of technical problems, specifications, project budgets and customer liaison. He has also worked as a marine systems engineer and has experience in the maintenance, repair, modification, overhaul and installation of marine systems, equipment and machinery in shipyard and offshore operations. Luke is currently working for Siemens Energy as the director of marine solutions Americas. He and his team specialize in marine DEP (diesel-electric propulsion), hybrid solutions, marine electrical systems, classification rules and requirements, performing the necessary studies, design and engineering of electrical systems for medium to large vessels e.g. workboats, (PSVs, SOVs, MPSVs, AHTSs, research vessels, tugs, fishing vessels, ferries, etc) and research/survey vessels. Luke has also supported proposal preparations, estimation of work scopes and customer presentations, and guided very complex technical interchange and knowledge transfer for processes and application of products to system design. He also acts as a liaison between vessel new-build project teams, customers, shipyards and service teams on new-build and repower projects. In these roles, he has gathered expertise with hydraulic, electrical, electronic, computer control equipment, lubrication, motor control and related systems and major components on ship propulsion systems. In addition to his propulsion and shipyard work, Luke has first-hand experience in repair and maintenance of ROV systems, fiber-optic testing and jointing equipment, sub-sea fiber-optic cable jointing, communications systems and general electronics and deck operations on board cable ships, construction vessels and DSVs.
---
Presentation
Advances and future challenges for hybrid and all-electric propulsion in the 21st century
As marine technology has evolved, diesel-electric propulsion (DEP), hybrid and all-electric power and propulsion systems have become the new norm. Hybrid and all-electric propulsion have been centered around lithium-ion battery energy storage systems (ESS) with the long-standing promise of dramatic improvement in battery performance with future technology development. Discussions about the limitations of battery systems have focused on safety and limited energy storage capacity: safety targeting susceptibility to catastrophic failure due to thermal runaway, and limited energy storage capacity focused on energy density and the space/weight limitations associated with this on board a vessel. The latest trends in the marine industry have focused on hydrogen-based propulsion for blended hydrogen fuels for internal combustion engine (ICE) applications, and the use of fuel cell (FC) technology. With ESS requiring supercharging, and hydrogen-based systems requiring fueling, challenges in our industry have become apparent. Limitations, solutions and future expectations associated with this both globally and in the USA will be discussed.